Update June 29, 2020:
Effective July 5th we will resume holding Sunday services at 10:00 am at our Mt Zion location.  We are carefully reviewing BC Reopening Guidelines and implementing safety measures as defined.  At this time we are requiring pre-registration for our weekly service Sundays at 10 am so that we can safely accommodate singles, couples and families while ensuring we adhere to the BC Guidelines.  Your patience with our new procedures is greatly appreciated.  Updates to these procedures will be posted as they are defined.
The COVID-19 pandemic has brought with it an overwhelming amount of bad news. Hundreds of thousands infected, thousands of deaths, financial markets crashing, schools closing, businesses suffering, and so much more. The negative headlines seem to never end. In the midst of it all, the Church has a promise and a hope that is so much greater than the darkness. We have GREAT NEWS.
During the next 4 weeks, our church will be regularly posting around the Great News that we have in the story of Jesus. This Great News is so much greater, so much more contagious, than all the bad news and darkness in our world. In an effort to encourage you during this time of crisis, we will be sharing scriptures, stories, and encouragements around the ideas of HOPE, PEACE, JOY, and LOVE being contagious.
We pray these next few weeks can be more than a crisis, but a time for you to reflect on what Jesus has done for you and a time where you can focus on the hope we have in Him!
To get accurate and timely information on COVID-19, please contact the following: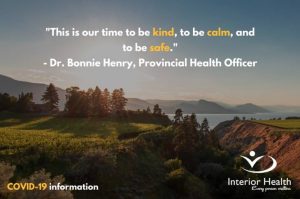 Interior Health — https://news.interiorhealth.ca/covid-19/
 Still have questions? Visit these sites for trusted information and contact
HealthLinkBC / 811 if you have symptoms
Call 1-888-COVID19 (268-4319) if you would like more information
BC Ministry of Health
Government of Canada's travel advice
COVID-19 self-assessment tool
The Public Health Agency of Canada or through their telephone information line at: 1-833-784-4397
WHO (World Health Organization) — https://www.who.int/news-room/q-a-detail/q-a-coronaviruses