Losses We Never Considered
Welcome back – let us pray together:
Lord, here we are again, seeking your guidance for our lives.  Speak to us and enable us to hear you.  Quiet our hearts and minds so that we can absorb your message.  Amen
Today we look at "Threatened Loss": It's one of the hardest losses. 
Their possibility is ever present.  Your sense of control is destroyed.
Example:
– You've worked for 19 years at the same company.  At 20 years, all your benefits are secure.  Then due to the economy, 40% lay-offs are announced.
Will you be one of the 40%?
– There are many other threatened losses in life:
. . . awaiting the outcome of a biopsy from the medical clinic.
. . . a spouse saying, "I'm thinking of divorcing you."
. . . a business investment which may not come through.
. . . being sued by an angry employee or customer.
. . . being in a foreign country and being kidnapped.
. . . a friend tells you they suspect your child/teen is using drugs.
There is little you can do about these potential losses.  They could occur.  You feel helpless.
We will get back to this subject.
 
Further major VARIATIONS OF LOSS are
Material Loss:
– You cannot find a physical object "I cannot find my . . ."
– Familiar surroundings disappear by means of floods, mud slides, storms, earth quakes.
– How about losing your belongings in a house fire?
– How does a break-in in your house affect you?
Relationship Loss:
This loss can come from
– a move to another part of your town, another city, another country.
– a divorce, a death or
– just growing up, or growing apart.
Intra-psychic Loss:
– The way you view yourself changes, you might lose confidence in yourself.
It could involve changing plans or giving up a long-time dream.
– Someone might lose courage, faith or hope.
– An expectation of what might have been but which does not materialize is seen as a loss:
What if you had taken the other job offer, had married another person.
What if . . .
Functional Loss:
– Muscular or neurological function of our body. 
– Aging with all its aches and pains!
– Memory losses can be devastating.  Loss of autonomy.
– The "I can manage" capability diminishes and you try to adjust.
– Some are overwhelming like losing a breast, a limb, an eye.
Role Loss/Identity Loss:
Due to life's changes you lose your place in some social network.
– Being promoted or demoted, loss of a spouse or change of career, no longer a student but now an adult
– Retirement … Think of life as a theatre production, and you have a certain role.  If that role is taken away from you, you are literally left without a part to play, and may indeed not know 'the lines'.
Systemic Loss:
It occurs usually when a person leaves a group and that upsets the balance of the system.
– A jovial co-worker who is no longer there and no longer shares cheerfulness and humor.
– A child leaving home, off to college, leaving the family circle.  "Family life will never be the same".  We might be intellectually prepared but often not emotionally.
Ambiguous Loss: 
1. People are perceived by family members as physically absent but psychologically present, because it is unclear whether they are dead or alive.  Missing soldiers, kidnapped or run-away children illustrate this type of loss in its worst form.
or
2.  A person is perceived as physically present but psychologically absent.  This condition is illustrated in the extreme by people with Alzheimer's disease, addictions, and other chronic mental illnesses.
Of all Personal Relationship Losses, ambiguous loss is the most devastating because it remains unclear.  Perceiving loved ones as present when they are gone, or gone when they are present, can make people feel helpless and thus more prone to depression, anxiety, and relationship conflicts.  Why?  Because this loss is confusing, people are baffled and immobilized.  They cannot problem-solve because they do not yet know whether the problem (the loss) is final or temporary.
The majority of losses we experience are difficult to grieve over.  Why? Because they're usually not accepted as a loss, there is usually no funeral, no condolence card, no 'casserole parade'.
We have just taken a closer look at losses we gradually go thru in life as we age. 
Let's now look at a new way of walking with God.
 
LET US EXAMINE OUR HUMAN POSITION FROM SCRIPTURE:
The Lord God formed the man from the dust of the ground,
(Genesis 2:7), . . . "By the sweat of your brow you will eat your food until you return to the ground, since from it you were taken; for dust you are and to dust you will return." (Genesis 3:19)
LIKE THE WHOLE EARTH, WE ARE TEMPORARY,
". . . Do not worry about your life, . . .Look at the birds of the air; they do not sow or reap or store away in barns, and yet your heavenly Father feeds them.  Are you not much more valuable then they?  Who of you by worrying can add a single hour to his life?" (Matthew 6:25ff)
WE ARE FRAGILE,
We are fragile, "jars of clay"(2 Corinthians 4:7-9), "We are hard pressed on every side, but not crushed; perplexed, but not in despair; hunted, but not abandoned; struck down, but not destroyed."
"We do not lose heart.  Though outwardly we are wasting away, yet inwardly we are being renewed day by day.  We fix our eyes not on what is seen, but on what is unseen.  For what is seen is temporary, but what is unseen is eternal."  (2 Corinthians 4:16,18)
LIFE ON EARTH IS FRAGILE,
"What then shall we say in response to this (life, losses)?  If God is for us, who can be against us?" (Romans 8:31)
"For I am convinced that nothing can ever separate us from God's love.  Death can't, and life can't.  The angels can't, and all the powers of hell itself cannot keep God's love away.  Our fears for today, our worries about tomorrow, or where we are – nothing will ever be able to separate us from the love of God demonstrated by our Lord Jesus Christ when He died for us."  (Romans 8:38-39, paraphrased)
HANDLE WITH TENDER LOVING CARE !       
As we count our losses, we realise our blessings:
Loss can strengthen our faith. 
It enables us to trust (have faith) in God and His resources rather than ourselves.  With every loss, we are reminded of the fact that we are neither in control nor are we self-sufficient. 
Every loss allows us to rest in the free compassionate grace of God. 
Loss enables us to change our perspective, and allows our hope for a renewed life to grow.
WAIT A MINUTE!  –  CHANGE MY PERSPECTIVE ? 
Read Genesis 2:8-9 and Genesis 2:15-17 and Genesis 3:1-5

Imagine the stage: Paradise as a beautiful garden, Adam and Eve interact with nature, enjoy a juicy peach or plum, and Eve has a little chat with a serpent dangling from a tree in the middle of the garden.  
What do they talk about?  Let's listen to the conversation:
– Serpent, "Howdi?  Would you like a mango?" (Who said it was an apple???)
– Eve, "Hi, no thanks.  I am not allowed."
– "What?!  Why not? Why would God plant a tree and not allow you to eat from it?"
– "Well, GOD told us not to eat it or even touch it, or we would die."
(Now THAT'S a big lie, God had not talked about touching it!  see Gen. 2:17)
Now, Adam joins Eve.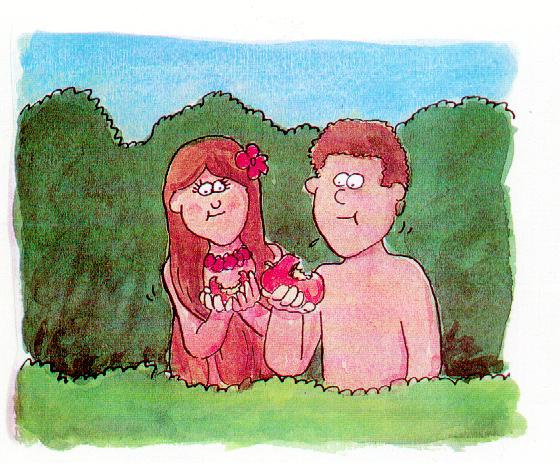 Then the serpent, being "more crafty than the other wild animals the Lord had made", plants a thought, just a wee little thought, – "Surely, you will not die, but. . . you will be like God, . . ."
And THAT thought has played on our human minds ever since. Generation after generation, we strive to be self-sufficient and 'in control', … 'be like god'.
We talk about it in different terms today, we say
*Look out for #1 !!!
*If you don't look out for yourself, nobody will.
SO, WHO CONTROLS MY LIFE OR YOUR LIFE?
Every loss is important.  Loss is part of life, it cannot be avoided.  
Losses are necessary!  Yes, necessary:
You change and grow by losing and then accepting the loss as part of life.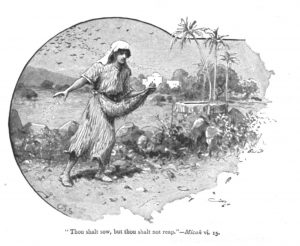 Picture a farmer as you read Luke 8:4-8
"While a large crowd was gathering and people were coming to Jesus from town after town, he told this parable: "A farmer went out to sow his seed. As he was scattering the seed, some fell along the path; it was trampled on, and the birds of the air ate it up. Some fell on rock, and when it came up, the plants withered because they had no moisture. Other seed fell among thorns, which grew up with it and choked the plants. Still other seed fell on good soil. It came up and yielded a crop, a hundred times more than was sown." When he said this, he called out, "He who has ears to hear, let him hear."
In the light of this parable, what kind of "soil" are we?
a)  "A path":  Very tolerant and therefore non-committal?
b)  "Rocky soil":  Very vibrant, excitable but no stomach to see things through?
c)  "Weeds":  Very interested, but busy at work, busy socially.  "No time"!
d)  "Good soil":  Enjoys life fully but life's strings are held in God's hands.  Will allow God to plow and fertilize, seed and harvest.
Life takes on a deeper and richer meaning because of losses, priorities change.  And the better you handle your losses, the healthier you will be and the more you will grow and be transformed. No one said that loss was fair, but it is part of EVERY life.
Perhaps losses traumatize us so much because they carry the message, "You really are not in charge of your life.  You don't have much control over your destiny after all.  You just thought you did and now that belief is shattered.  You're at the mercy of whatever happens."
We all like to be in control of our lives, many demand to be in control (abortion, euthanasia), or at least we think we are in control (as we plan our future).  But, check out Luke 9:23, Jesus speaks to the crowd
"…, you must turn from your self-centered ways, take up your cross (allow transformation) daily, …"
Loss of control is one of our deepest fears.  Some people take control of their lives because they fear the control of others.  Controlling behavior is the fear of trusting (having faith in) others.
Dr. Lloyd John Ogilvie writes, "A controller cannot trust God because he fears the control of his life resting in anyone's hand but his own."
Ogilvie continues: "Our need to be in charge of ourselves, of others, and of situations often makes our relationship with Christ life's biggest power struggle.  We are reluctant to relinquish our control and allow Him to run our lives.  We may believe in Him and be active in the church and Christian causes, but trusting Him as Lord of everything in life can be scary.  Even though we pray about our challenges and problems, all too often what we really want is strength to accomplish what we've already decided is best for ourselves and others.  Meanwhile, we press on with our own priorities and plans. We remain the scriptwriter, casting director, choreographer, and producer of the drama of our own lives, in which we are the star performer."
Can you relate to any of the above?
The way of trust and faith in the triune God is a better way to live.  It might just help us to better handle the losses of life.  Loss enables us to realize our limitations and to trust more in God and His resources rather than our own. 
Question:
HOW MUCH CONTROL DID YOU HAVE IN CHOOSING YOUR GENDER, PARENTS, SKIN COLOR OR TIME OF BIRTH ?
Read Psalm 139:
Lord, You know when I sit and when I rise; . . . before a word is on my tongue You know it completely.  You both proceed and follow me, . . .(day and night) for darkness is as light to you. . . You knit me together in my mother's womb, . . . your eyes saw my unformed body.  All the days ordained for me were written in your book before one of them came to be. . . Search me, O God, and know my heart; test me and know my anxious thoughts, and lead me in the way everlasting.
As Jeremiah 29:11-14 says,
For I know the plans I have for you, plans to prosper you and not to harm you, plans to give you hope and a future… You will seek me and … I will be found by you and bring you back from captivity (your loss).
Psalm 39:4-7:
"Show me, O Lord, my life's end and the number of my days; let me know how fleeting my life is.  Each man's life is but a breath before you. Man bustles about, but only in vain; he heaps up wealth, not knowing who will get it.  But now, Lord, what do I look for?  My hope is in you." 
LOSS PRODUCES MATURITY
There are character qualities such as patience, endurance, humility, long suffering, gratitude and self-control that can develop as a result of our losses. See Romans 5:3-4, paraphrased:
"Moreover – let us also be full of joy now!  Let us exult and triumph in our troubles and rejoice in our sufferings, knowing that pressure and affliction and hardship produce patient and unswerving endurance.  And endurance develops maturity of character – that is, faith (trust) and integrity.
We live in a world that demands immediate satisfaction.  BUT:
Losses teach us the glorious lesson that it doesn't always work that way.  We cannot have what we want when we want it, no matter what.
When you experience a loss, like Paul writes to the Romans, your beliefs can change.  Loss can bring people together in a way never experienced before.  Our pain creates a deeper sense of empathy and concern for the pain of others.  We are a people who have been called to comfort one another (1 Thess. 4:18) and to weep with those who weep (Rom. 12:15).  God is involved in our lives and reaches out to sustain us, through others.  Our losses are going to change our values.  Hopefully we learn through those experiences.  Paul discovered the purpose of losses, namely that God would be more evident in his life.  Our grief work is not really complete until we have found some meaning in our grief.  It is true that our emotions need healing, but so does our belief system or theology.  This is a new thought to many people.
"Our hearts ache, but at the same time we have the joy of the Lord."
(2 Corinthians 6:10, paraphrased)
This concludes our third session.
Please, take time to read chapter 2 of your book, "Recovering from the Losses of Life".
Then, come back to Session Four.
Let's close with prayer:
(Prayer of  St. Francis):
"Lord, make me a channel of YOUR peace,
where there is hatred, let me sow love,
where there is injury, YOUR pardon, Lord,
and where there's sadness, ever joy."
In Jesus Name.  Amen.
[maxbutton id="2″]  [maxbutton id="4″]