"ROLLING THE BALL OF GRIEF . . ."
Welcome.  Before we get started, get comfortable with a cup of tea or coffee if you wish, and let's pray:
Lord, in Jeremiah 29:11 You tell us that You have plans to prosper us and not to harm us, plans to give us hope and a future.  –  Lead us, Lord Jesus, in each step we take.  Amen
God's Word gives us hope during our losses.  Read them every day for a while, and meditate on them.  They will help you "to see the light at the end of your tunnel."  Personalize them, too.
"You have delivered my life from death, my eyes from tears, and my feet from stumbling.
I will walk before the Lord in the land of the living."  (Psalm 116:8-9)
"I (God) will turn their (my) mourning into gladness;
I (God) will give them (me) comfort and joy instead of sorrow."  (Jeremiah 31:13)

In his book, "Mourning Into Dancing", Walter Wangerin, Jr., described these responses:
"Sorrow and joy are not separate.  Happiness and sadness may be the opposites of one another, but not joy and sorrow.  In fact, it is through sorrow that one discovers a calm, abiding indestructible joy.  This is the paradox of our faith; joy is forged in sorrow." 
We have talked before of the aspect in our Christian faith, that the cross with sorrow, pain and tears, accompanied by feelings of being lost, lonely, ridiculed, misunderstood and defeated, is followed by the resurrection.  First Good Friday, then Easter Sunday!
"What are some positive steps that those who experience a loss can take in order to recover?"
There are many positive steps that can be taken to aid in recovering from a loss.
The following 4 we have already looked at:
A starting point is acknowledging and understanding the significance of your loss.
You need to face and experience the pain even though you'd prefer to run from it.
You need to adjust to that empty place in your life.  It's a matter of learning to live life without whomever or whatever you lost.
A big step is changing your emotional attachment to what you've lost into re-investment of your emotions into something new.
For the moment, let's look at:  WHAT CAN BE DONE TO HELP YOU MOVE ON?
1.)  Identify and express your feelings.
For some this is easy. 
Others struggle trying to figure out
what they are feeling and talking about it.
Many have been helped by this
visual definition of grief: 
"THE BALL OF GRIEF"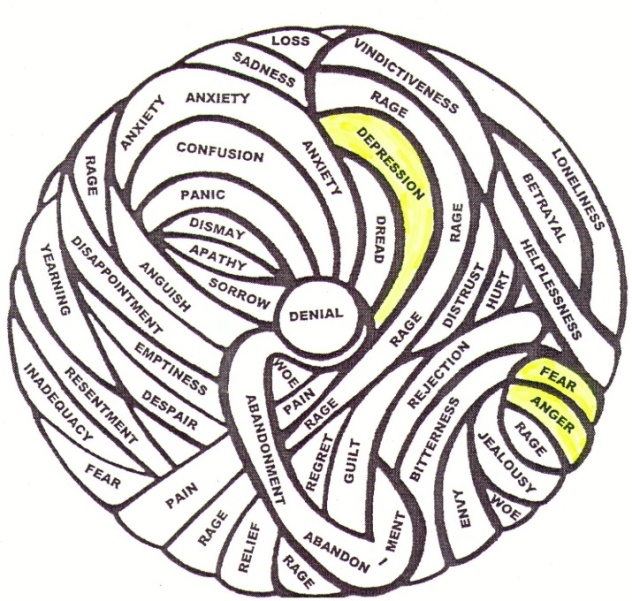 This is not in your book "Recovering from the Losses of Life".
Please, take a look at it.  Do you see yourself in this tangled ball of emotions?
I suggest that you keep the "Ball of Grief" handy and use it to help identify what you are experiencing.  The feelings described here are what just about everyone experiences.  They are normal.
If anyone says otherwise, don't listen to them since they are not an expert on grief.
From time to time it will help to look closely at one emotion in order to describe what it feels like and to determine its extent.  For example, let's consider DEPRESSION. 
Please, evaluate where you are now using the 3 questions:
What is it like when you feel depressed?
– a slate gray afternoon
– a cold, drizzling rain
– a hot, oppressively humid day
– a freezing morning with a bitter wind
– a dull, overcast sky
– a season of ankle-deep mud and slush
Right now, what type of weather forecast best describes where you are in the spiral process of dealing with your loss?
– stormy conditions
– partly cloudy
– heavy rain
– a thaw
– chilly days
– sunny days ahead
– gentle spring breezes are blowing
With your current grief process in mind, place yours somewhere on the scale:
____________________________________________________________
Not been           Beginning             In the middle of        I'm through most
depressed        to feel down         a heavy depression      of my depression
 
ANGER is another common response.  We become angry at many things with a loss. 
"It isn't fair that I lost . . .Look at others – they haven't lost their. . .!!!" 
Anger (resentment) and even rage are common reactions to the loss of a loved one.
You may be terribly angry (resentful) right now as you think about what you lost and how your life has changed overnight.
You may be angry (resentful) at the person who died and has left you behind, facing a lot of legal work and loneliness.
You may be angry at yourself for not having done or doing enough.
You may be angry because of the change in lifestyle inflicted upon you.
You may be angry over (resent) role changes that have to be made within your family.
You may be angry for (resent) what you perceive to be a loss of control    in your life.
You may be angry that family and friends have gone back to their normal lives and aren't thinking about your grief.
You may be angry (resent) that the rest of the world busies itself around you as tough nothing has happened.
You may be angry with or resentful against God.
Anger is a warning sign.  Anger may be the first emotion we are aware of, but it is rarely the first emotion we experience in a particular situation.  The emotions that most frequently precede anger are fear, hurt, or frustration.  Not only are these three painful, but they also drain us of energy and increase our sense of vulnerability.
At an early stage in our lives many of us learned that anger can divert our attention from these more painful emotions.  If I get angry I can avoid or at least minimize my pain.  Perhaps I can even influence or change the source of my anger.  I can blame something or somebody.
It doesn't take us long to learn that it is easier to feel anger than it is to feel pain.  Anger provides an increase of energy and can decrease our sense of vulnerability.
Always ask yourself, "What is the pain, the fear, the hurt, the frustration behind my anger?" 
What can you do with the anger?
You can again use the 'Garfield' method of putting labels on your emotions, face them, name them, if possible talk to a friend about them.  This will diminish their grip on you.
Here is an example of what one man did that for him was very beneficial.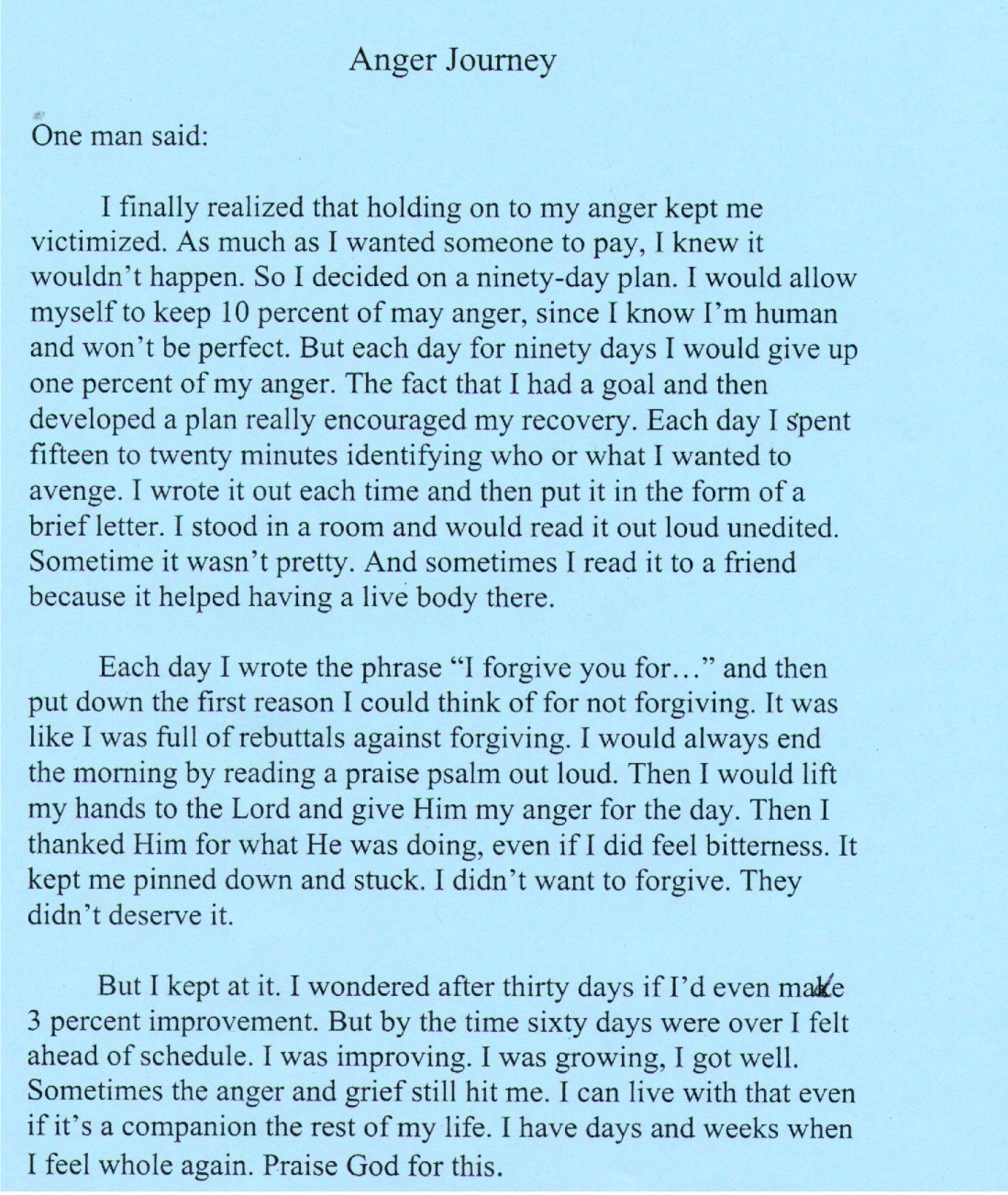 If you are struggling with anger, I suggest that you follow this man's example.
Here are some more examples on how people have dealt with anger:
A mother became very angry about her son's death caused by a drunk driver.  Her anger, put to positive use, has created an organization, MADD (Mothers Against Drunk Driving), that now promotes legislation and awareness programs to remove drunk drivers from the nation's roads.
Anger can be used positively and creatively in many ways.  Here are several ways in which anger has been used positively:
A grandmother requested that parents of cancer victims be provided printed information about cancer as well as the location of support groups.
An adult son who lost his elderly father organized programs for a local convalescent home.
A young mother who lost her preschool age daughter solicited toy contributions to give to a local pediatric ward.
Notice the action words.  People not only re-directed their anger but also brought relief and sense of control to their lives:   They requested, organized, solicited.
Let us take another look at the "BALL OF GRIEF".
Other emotions tend to dominate our lives when we are grieving:   FEAR and WORRY.
Worry can be like a war that quietly rages inside you.  It has few limits and boundaries.  Worry is the uneasy, suffocating feeling we often experience in times of fear, trouble or problems.  When we worry, we look pessimistically into the future and think of the worst possible outcomes to the situations of our lives.
Scripture describes this struggle in a very visual way:
Listen to Habakkuk 3:16 ff, as he describes a period in his life:
"I heard (the news) and my heart pounded, my lips quivered;
decay crept into my bones and my legs trembled. . .
Though the fig tree does not bud and there are no grapes on the vines;
though the olive crop fails and the fields produce no food,
though there are no sheep in the pen and no cattle in the stalls,
yet I will (to) rejoice in the Lord, I will (to) be joyful in God my Savior."
Note, "will to":  sometimes it is an ACT of your will to 'rejoice' in the Lord!!
"Anxiety (worry) in a person's heart weighs it down, but an encouraging word makes it glad."
(Proverb 12:25)
"When a person is gloomy (because of worry), everything seems to be and to go wrong; when a person is cheerful, then he continually finds good in everything (regardless of circumstances)."  (Prov. 15:15, paraphrased)
Here is one suggestion that thousands have used to overcome the worries that invade their minds.   
Take a blank index (recipe) card and on one side write the STOP in large, bold letters. 
On the other side write the complete text of Philippians 4:6-9,

use the NIV or Living Bible (paraphrased).
Keep the card with you at all times.  Whenever you're alone and begin to worry, take the card out, hold the STOP side in front of you, and say aloud, "STOP!" twice with emphasis.  Then turn the card over and read the Scripture passage aloud twice with emphasis.
2) So, what can further be done to help you move on?
1.) Another positive step you can take that will help you and everyone else who learns of your loss is to construct an EXPLANATION LETTER.
After you have talked about your loss to a certain amount of people for a certain period of time, there comes a time when this is no longer helpful to you but instead becomes both tiresome and irritating.
To add to this dilemma will be the silence as well as stumbling, hurtful comments from others, because others often don't know how to respond to you, or what to say in general.
It is all right for you to take charge and let others know what you need and don't need at this time of your life.  That doesn't always mean that others will comply.  Unfortunately, you may have to educate others about grief.  You have to go after what you need to resolve your loss. 
Let others know that they don't have to avoid bringing up your loss. 
Let them know you want them to call, to ask you how you are doing, and
not to be put off by your tears or anger. 
You are as normal as they are, you are just at a different stage in your life.
Perhaps it would help you and others if you prepared a set of instructions to ease their anxiety about how to assist you.
You have a copy of this type of letter at the end of Chapter 3, page 60, in your book.  This letter is only a suggestion that can be altered to fit your loss situation.
2.)  Another way of letting others know about your situation is through a WEEKLY UPDATE on your ANSWERING MACHINE.
"Dave" is a husband whose wife died of cancer.  He continued these messages over a period of 4 years and transcribed each one so he has a written record of his grief journey.  This was his way of letting others know how to pray for him.  It also helped to answer his adult daughter's questions and brought a new closeness to his family.  His wife died January 25, 1997.  Many would call purposely when he was at work just to get the weekly update.  It seemed that these messages coached others through their difficulties in life.
He started his messages with:  "Hi, this is Dave", and went on to talk about how he felt lost without his wife.  He quoted Proverb 3:5-6.
Some time later he shares that it had been 5 months since her death and tells specific areas of his life where he misses her.  He ends with Isaiah 40:28-29.
Then, another time, he confesses to 'ugly thoughts' and asks for prayer.  Psalm 145:8-9.
etc. etc.
3) If you struggle with tears and crying seems to consume your day, you may want to use a
"TIME TO CRY".  For some it is helpful to establish a specific time during the day for the purpose of crying.  Set a timer for 30 minutes, sit and cry over the pain and loss until the timer goes off.  Then decide to get into some activity that's productive.
If the tears come back, interrupt them as best you can and remind yourself that tomorrow you will have another opportunity to cry.
The next day do the same, but set the timer for 29 minutes.  The day after that do the same, but set the time for 28 minutes and continue each day with one minute less until 30 days are up.  By this time most feel their life is no longer dominated by tears but there is more of a balance.
4) One of the concerns that many struggle with is not remembering the details of the person's life that they have lost.  You may want to consider creating a COLLECTION OF 1,000 ONE-LINERS.  A husband who lost his wife after 35 years suggested this.  Every time you think of something about the person you want to remember write it down on one line.  When you have 1,000 of them you probably have most of what you want to remember.  By doing this activity you'll find that it will help you grieve as well.  You could also add a picture now and then and make it a bit of a photo album.
On the left is an example of such a collection.  I (mother) made this one after the death (April 11, 1997) of our 15 year young son, Martin who died suddenly in an accident.  Originally a newspaper column, we framed it and it now hangs in our kitchen.  The scan is very poor quality, but it gives the idea: 

MARTIN – THE BABY 
Born December 3, 1981
Baptized Easter Sunday Sunrise Service
April 11, 1982
MARTIN – THE TODDLER
Learns to talk (and talks and talks…)
Learns to walk (never to sit still again)
Climbs under, into, around and over everything,
thus challenging the law of gravity on more than one occasion.
Preschool, becoming bilingual;
soccer ("Why can't everybody get a ball?")
MARTIN – THE BOY
Sunday School Mt. Zion Lutheran Church;
Gordon Terrace School (K-gr.3)
Pinewood School (gr.4-gr.7)
Soccer, skiing, skating (Hockey)
Nintendo
Gymnastics (Key City Gym Club)
Swimming (Triton Swim Club)
Hyper, happy, healthy, strong willed.
Invents much (i.e. mousetrap to catch mice alive – successfully!)
Piano lessons ("I hate practicing!")
Hiking, Camping ("Yukon – bestest trip ever!")
Pets ("I'ld love to breed dogs one day."),
etc. etc. etc.
MARTIN – THE TEENAGER
Parkland Sec. School, honor roll student,
Percussion/Band (gr.8),
Woodturning on lathe:  Crafts for sale at Christmas Bazaars.
Most Sunday mornings at church.
Soccer referee and soccer player (team shirt #13)
Snowboarding ((K2/ "I wished we had 9 months winter!")
Skateboarding ("Snow is sure softer than cement!")
Trips and travels here and abroad ("Parasailing is awesome, man!")
Builds bat and bird houses;
mows lawn, chops wood, shovels snow;
fishing, sailing, swimming, golfing;
seemingly endless energy;
spontaneous, generous, philosophical ("What if…")
Contagiously joyful, happy, upbeat.
Opinionated ("Camomile tea heals everything!")
Invincible, impatient, determined ("I think we should have a pond …)
 5) To counter the tendency to become immobilized, it may be helpful to make a list of the ESSENTIALS as well as NON-ESSENTIALS that need to be completed.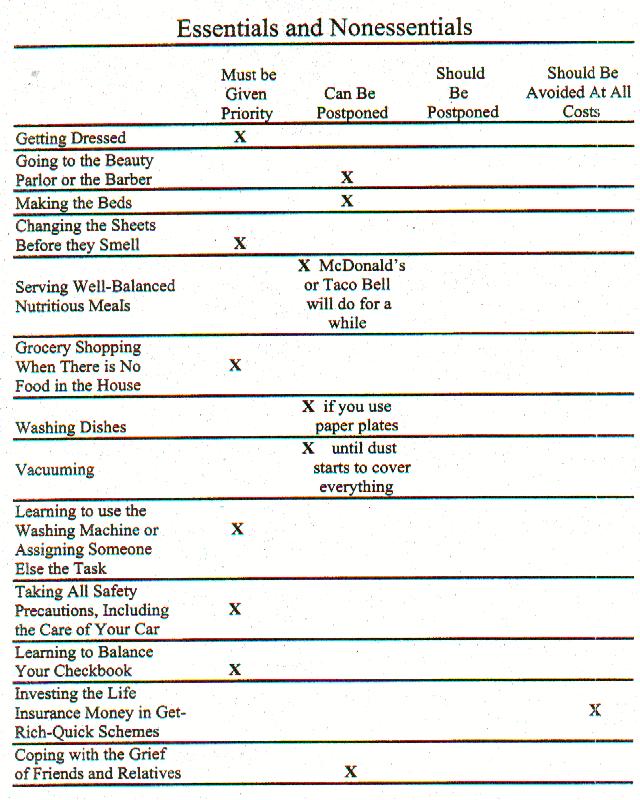 6) Many have heard of DAILY JOURNALING as a means of recovering.  There are various ways in which to do it.  At the end of this session you will find steps that were also taken by the same husband whose taped messages were shared earlier.  Scroll down and read them over.  You might want to consider this.  I scanned them for your use, unfortunately, the quality is not the best – I apologize!
Examples of JOURNALING
(Some of my favorites are #2 'Stepping Stones',
#6 'Write letters', #14 'Secondary Losses' and #18 "Time Line".
But, YOU might find some others more to YOUR taste!)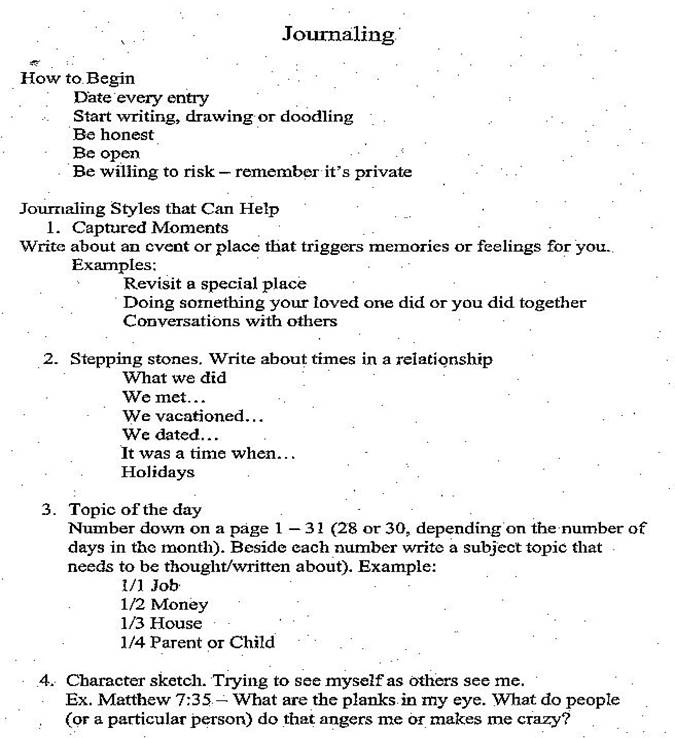 7) With every loss, for recovery to occur, you need to SAY GOOD-BYE.  We will consider this process next session, session 8.
 
This time, there is no further chapter to read in your book "Recovering from the Losses of Life".
I think there is enough material right here online.  If you have the book, make sure you have read chapter 5 as indicated after session 6.  Take your time . . .
Let us close with a prayer:
Lord, by Your Spirit cause us to come to you.  You said, 'Come to me, all you who are weary and burdened, and I will give you rest.  Take my yoke upon you and learn from me, for I am gentle and humble in heart, and you will find rest for your souls.  For my yoke is easy and my burden is light.' (Matthew 11:28-30) Lord, cause us to come to You and You alone.  Amen
[maxbutton id="6″]  [maxbutton id="8″]